Make a Difference Today
Your donation helps us to create sustainable change and nurture hope in people's lives through community-based programs focusing on Learning and Development, promoting self-support mutual groups.
Sponsor a Child
Thank you for sponsoring one or more children to get quality education at our Hope Growers ECD Centre for the coming year. 39 out of 72 children are coming from vulnerable families; Your monthly support of 50,000 Rwf ( 600,000 Rwf annually) will enable a child to take advantage of all primary healthcare support offered during our programs including the following:
Daily attendance at our ECD centre
Ensuring each class has a teacher and an assistant
Nutritional meals – Porridge and snacks
Spacious play area
Provision of educational toys, puzzles and books
Fun days and one educational trip a year
Parenting workshops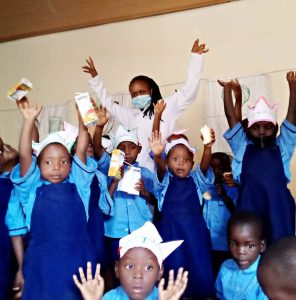 Our in-kind needs:
One set for Visual education components (Laptop, Projector & Projector Screen)
One Desktop for ECD Coordinator to use in daily reporting of ECD activities;
Equipment for the Player park  (Swing, climbing structures, Skipping ropes, wood chips etc)
Speakers for outdoor playing activities;
Any other item for Kids' entertainment.
Our running costs:
Monthly Salary of 180,000 Rwf (2,160,000 Rwf Annually) for the ECD Coordinator;
Monthly Salaries for two cleaners totaling 25,000 rwf ( 300,000 Rwf annually) each;
Monthly Salary of 35,000 Rwf (420,000 Rwf annually) for the ECD night guard
DONATE
Thanks to your support, trust, and belief in empowering the future generation in rural areas, Hope Growers Organization projects can increase our scope year after year to reach more beneficiaries and diversify activities.
VIA BANK DETAILS
Bank: Bank of Kigali
Account Holder: HOPE GROWERS ORGANIZATION (HGO)
Account: 100133769786 Bank of Kigali Plc
TIME AND SKILLS
You can also contribute to Hope growers Organization Programmes by sharing your time and professional skills with us.